27/11/2020
VEAS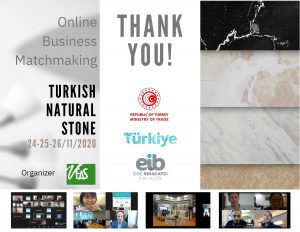 Co-organized by Aegean Minerals and Natural Stones Exporters Association, Aegean Exporters' Associations under the support of Republic of Turkey Ministry of Trade and Minh Vi Exhibition and Advertisement Services Co., Ltd. (VEAS), the Turkish Natural Stone online B2B Trade mission with Vietnam is one of the efforts in Covid-19 pandemic to connect Vietnam and Turkey businesses in natural stone industry to trade, find new partners and stay connected through online content, matchmaking, product showcases, and live webinar.
The business-matching sessions on 24-25-26 November 2020 enabled Vietnam importers, traders, distributors, contractors to meet with Turkish natural stone suppliers. There were 17 suppliers from Turkey who attended 1-1 meetings with over 20 Vietnamese companies via virtual meeting rooms on Zoom.
The event was successfully conducted with over 190 matchmaking meetings which surprised Turkish suppliers of how they could have a chance to meet with many business partners in this tough time as Covid-19 has impeded them from traveling to Vietnam for face to face meetings. The Turkish businesses had good preparation, introduced lots of new and most beautiful stone models with reasonable prices for Vietnamese market. In contrast, Minh Vi company (VEAS) has also received the valuable support and participation from Vietnamese stone enterprises during the time of preparation and organization.
All participations well facilitated new business contacts and relationships to initiate future international transactions.
VEAS would like to thank the companies that participated in the event over the past 3 days. We also express our big thanks to the Aagean Minerals and Natural Stones Exporters Association, who has trusted in our capability and helped organize this event well, creating efficient connections for businesses of 2 countries.
We hope to receive more attention, companionship and cooperation from Associations, organizations and businesses. For more information, please contact via email: info@veas.com.vn