06/01/2021
VEAS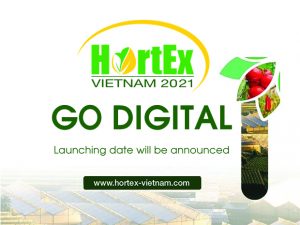 The 4th International Exhibition & Conference for Horticultural and Floricultural
Production and Processing Technology in Vietnam
HortEx Vietnam 2021 to go digital
HortEx Vietnam 2021 was originally scheduled for 17-19 March 2021 and as it looks now it is unlikely that things will already return to normal in the 1st quarter of 2021. Although that there has been positive news with regards to the vaccines over the past weeks and it is widely expected that things will return to normal next year it is now still unclear when this will happen.
Therefore, the organisers of HortEx Vietnam, Minh Vi Exhibition & Advertisement Services Co., Ltd (VEAS) from Vietnam, Nova Exhibitions B.V. (NOVA) from The Netherlands and Great Wall International Exhibition Co., Ltd. (GIE) from China, will offer all participants the possibility to participate in the virtual platform of HortEx Vietnam, this will be introduced early next year.
In addition, the organisers are planning a kick-off event in 2021 which will include the presentation of HortEx Vietnam 2022 extended with targeted seminars addressing actual topics on horticulture and floriculture in Vietnam. More information on this will follow in due course.
Data released by the General Statistics Office (GSO) estimated a 1.81 percent growth to Vietnam's GDP in the first half of 2020. Despite being modest, these rates are encouraging considering that Vietnam is one of few countries that achieved positive growth during the pandemic.
The organisers of HortEx Vietnam look optimistically to the near future and are confident that, as soon as things will return to normal globally, HortEx Vietnam will continue its growth path and enable local and international companies, within the horticulture and floriculture sector, to establish new business and/or strengthen their current business relations in this fast growing region in Southeast Asia.
More information can also be found on www.hortex-vietnam.com