26/01/2021
VEAS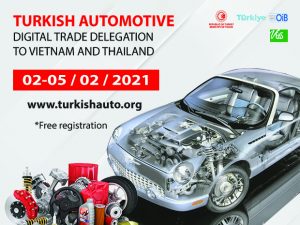 PRESS RELEASE
For direct publication
TURKISH AUTOMOTIVE DIGITAL TRADE DELEGATION
TO VIETNAM AND THAILAND
1st – 5th February 2021 via Zoom platform
Turkish Automotive Digital Trade Delegation to Vietnam and Thailand will be held from 1st to 5th February 2021 via Zoom platform. The online event is organized by Ministry of Trade – Republic of Turkey, Uludag Automotive Industry Exporters' Association (OIB) and its PR Partner in Vietnam – Minh Vi Exhibition & Advertisement Services Co., Ltd (VEAS) (VEAS).
Turkey's automotive industry was established in the early 1960s. After rapid industrialization and progress the sector evolved from assembly-based partnerships to a full-fledged industry with design capability and massive production capacity.
Significant growth posted by Turkey`s automotive sector led to Turkey becoming the 14th largest automotive manufacturer in the world and 5th largest in Europe by the end of 2018.
There are more than 250 global companies that have chosen the country as a manufacturing hub. 28 of them rank among the 50 largest global suppliers. More and more foreign auto manufacturers choose Turkey as a production base for their export sales.
There are 1.46 million vehicles produced and 430+ tier 1 suppliers in Turkey, USD 15 billion invested by global brands in the Turkish automotive industry since 2000. Turkey has been ranked 3rd of commercial vehicle production in Europe, 14th of global automotive production, reached over USD 30 billion of automotive export.
Capturing the potential development of the automotive industry in Vietnam, Thailand and Southeast Asia, Ministry of Trade – Republic of Turkey and Uludag Automotive Industry Exporters' Association (OIB) organize Turkish Automotive Digital Trade Delegation to enhance bilateral trade and investment between Turkey and Vietnam, Thailand.
All Vietnamese and Thai Aftermarket Wholesalers and key players, distributors, importers, service companies, joint venture companies, dealers who are related to automotive sector are welcomed to attend the event to meet with 13 leading Turkish Exporters of Auto parts for Passenger automotive, Commercial vehicles, Agricultural tractors, Construction machines….
Webinar Program on 1st February 2021 with senior industry speakers will reveal helpful information, knowledge and experiences.
Online B2B Meetings between Turkish and Vietnamese – Thai companies on 2nd – 5th February 2021 offer opportunities to connect and trade internationally as well as generate new business cooperations.
Registration is free for Vietnamese and Thai companies by filling the form HERE or contact us as information below:
Minh Vi Exhibitions & Advertisement Services (VEAS)
Ha Do Building, 2 Hong Ha, Ward 2, Tan Binh Dist, Ho Chi Minh City, Vietnam
Tel: (+84) 28 3848 8561 | Website: www.veas.com.vn
Email: janeth.bui@veas.com.vn | Mobile: (+84) 984 339 420 (Ms.Giang)