The 13th International Agriculture Exhibition & Asia Crop Protection Forum
AgroChemEx Vietnam 2020
Saigon Exhibition and Convention Center (SECC), Ho Chi Minh City, Vietnam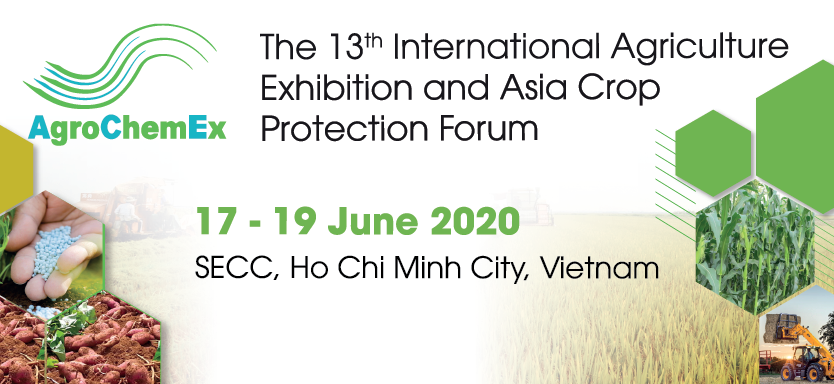 AgroChemEx Vietnam 2020
09:00 AM
Saigon Exhibition and Convention Center (SECC), Ho Chi Minh City, Vietnam
AgroChemEx Vietnam 2020 is a part of a series of international exhibitions held in many countries, such as: Colombia, Peru, South Africa, Ukraine, Phillippines, Vietnam, Cambodia, Myanmar…
The exhibition is expected to welcome 70 exhibitors from all over the world to exhibit their products: Agriculture Chemicals, Pesticides, Fertilizers, Protection Crops & Biotechnology, Agriculture machinery…
Exhibitor Profile:
Agriculture Chemicals: Chemical Pesticides & Intermediates (Pesticides, Bactericides, Herbicides, …); Bio-pesticides, Ecological Pesticides, Agriculture Chemical Production & Processing technologies
Chemical Fertilizers: Nitrogen Fertilizers, Potash Fertilizers, Phosphate Fertilizers, Compound Fertilizers, . . . New Special Fertilizers (Seaweed Fertilizers, Biological Fertilizers, Foliage Fertilizers, Slow Release Fertilizers, Trace Element Fertilizers, Humid Acid Fertilizers, …
Protection Crops & Biotechnology: Plant Growth Regulators, Transgenic Products, Soil Additives, Nutritional Agents, Turf
Agriculture Mechanical Equipment: Grain Plantation Harvest Machinery; Agriculture Mechanical Accessories: Spray, Irrigation & Dewatering Mechanical Equipment; Fertilization Related Mechanical Equipment: Agrochemical Product Production Equipment: Agriculture and Sideline Product Processing and Storage Equipment; Agriculture Plastic Products; Crops Transportation Equipment: Wrapping Machinery: Agriculture Engineering Technologies: Environment Protection Equipment: Waste Water and Waste Residue Treatment Technologies and Equipment
Visitor Profile:
Agrochemical/Machinery wholesalers & Retailers
Chemical Products/Machinery Importers & Exporters
Mass Agrochemical Product/Machinery Users
Mass Agrochemical Technology Users
Registration Agency and Consultant
Agriculture Department
Agro Producers
New Agriculture Product & Technology Applied Organizations
Terminal Users of New Agriculture Products & Technology
Farmers, Agriculturists & Agronomists Entrepreneurs, Farm Contractors  Engineers & Technicians
Investors and Bankers
Universities and Research Institutions Government Representatives
Related Correlative Enterprises & Organizations
PARTICIPATION FEE
RAW SPACE: USD 355 per sqm (minimum 18sqm)
Ideal for exhibitors who wish to build their own concepts
SHELL SCHEME: USD 385 per sqm (minimum 9sqm)
Rear and dividing wall partition of 2.5m height in white laminated panel  Fascia board with company name and booth number
Needle punch carpet
1 x information counter  2 x folding chair
1 x waste paper basket
1 x 5 amp / 230 volt single phase power point  2 x 40w fluorescent tube
Daily cleaning
Download AgroChemEx Vietnam 2020 Brochure here.
Download Post Show Report 2019 here.
Visit our fanpage to update latest information: facebook.com/AgroInternationalExhibition