The 4th International Exhibition & Conference for Aesthetic, Beauty, Cosmetics, Hair, Nail and Spa in Myanmar
Beauty Connect Myanmar 2020
Rose Garden Hotel, Yangon, Myanmar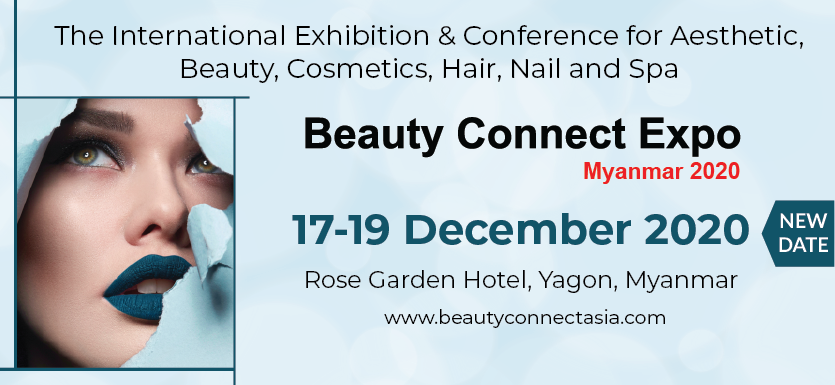 Beauty Connect Myanmar 2020
Beauty Connect Myanmar 2020
Beauty Connect Expo Myanmar – The 4th International Exhibition & Conference for Aesthetic, Beauty, Cosmetics, Hair, Nail and Spa in Myanmar includes highlighted activities Opening Ceremony; pre-scheduled and free of charge B2B Matchmaking Program, a unique platform for helping participants network with right partners right at their booth; Technical Seminar Program with many hot topics presented by leading experts in the beauty industry, updating for participants practical and comprehensive hot topics and helping them to grasp latest market information and technology transfers in Myanmar beauty market; lively and skillful demonstrations of makeup artists, hair stylists in Stage Program…
Follow Fanpage Beauty Connect Exhibition to update the latest news and get more information about the exhibition: https://www.facebook.com/BeautyConnectExhibition/
====================
In order to comply with the regulations and recommendations of the government and specialized agencies in the prevention of the pandemic, as well as to ensure the safety of public health and our own, Organizer has decided to re-schedule to new date of December 17th – 19th, 2020 for Beauty Connect Myanmar 2020.
We seek your understanding for this change if it brings difficulties to your business. Our top priority is to ensure public health safety, and organize an event that is the most effective for all participants in a realistic context as well. We commit to making the best effort and support to welcome you in the upcoming events.
Please contact us if you have any question or concern:
For sale enquiry, please contact your sale representative or email: info@veas.com.vn
For visitor support, please email: phuoc.nt@veas.com.vn.