The 13th Edition Vietnam International Exhibition on Aesthetic, Beauty, Cosmetics, Hair, Nail, Spa & Wellness
Cosmobeauté Vietnam 2020
Saigon Exhibition and Convention Center (SECC)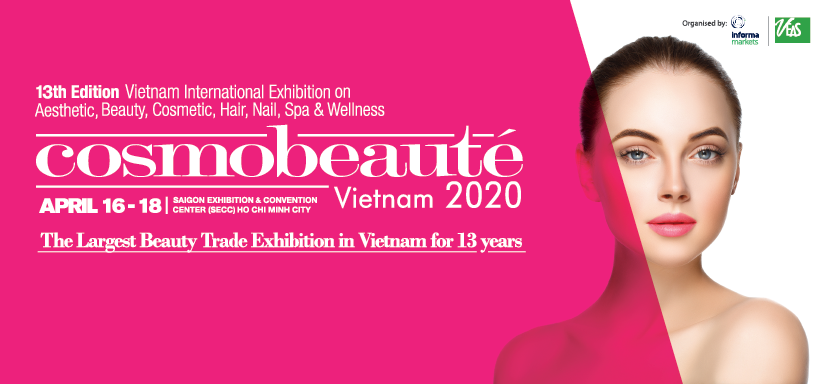 Cosmobeauté Vietnam 2020
Cosmobeauté Vietnam 2020 – The 13th Edition Vietnam International Exhibition on Aesthetic, Beauty, Cosmetics, Hair, Nail, Spa & Wellness will take place on April 16th – 18th, 2020 at Saigon Exhibition & Convention Center (SECC).
Cosmobeauté Vietnam 2020 is an ideal platform for international players to introduce new beauty brands into Vietnam, as well as for local beauty manufacturers to brand themselves to international investors and introduce quality Vietnamese beauty products to the global beauty market.
In 2019, Cosmobeauté Vietnam attracted 216 exhibitors and 13.983 trade visitors from around the world. During 3 days, Cosmobeauté Vietnam has connected a large number of businesses and buyers including importers, distributors, retailers, commercial enterprises and potential investors in the beauty industry in Asia and the global. Booking a stand at Cosmobeauté Vietnam, businesses have opportunities to connect with variety of target audiences, appoach closer to potential partners as well as update modern techonologies from other brands in the same field.
Over thousands of quality visitors including beauticians, aestheticians, as well as business owners of spas, retailers and distributors of beauty products & equipment, e-commerce businesses looking to start a business in the beauty industry will all be gathered in this largest beauty show for Vietnam beauty industry. FREE VISIT is available for all visitors during three-day event.
Click here to register for your free visit: forms.gle/1hiJUmpGq2ZmN55M7
Follow fanpage Cosmobeauté Vietnam to update the latest news about beauty field: https://www.facebook.com/CosmobeauteExhibition/
See Post Show Report of Cosmobeauté Vietnam 2019 here.
See brochure Cosmobeauté Vietnam 2020 here.