The 5th International Exhibition & Conference on Livestock, Dairy, Feed and Meat Processing in Cambodia
Livestock Cambodia
DIECC (Kohpich), Phnom Penh, Cambodia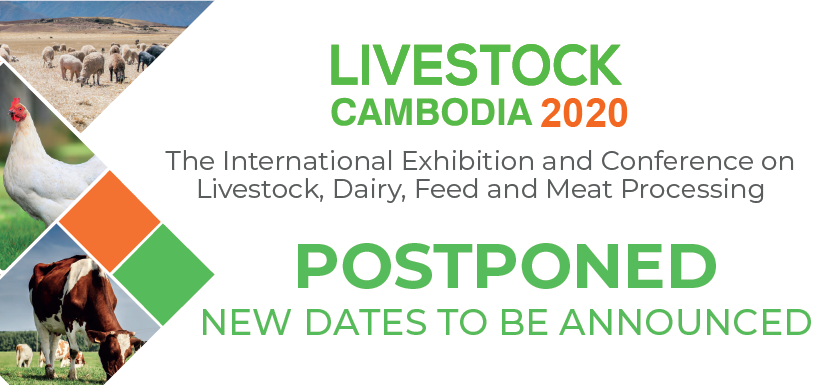 Livestock Cambodia
ANNOUNCEMENT
 Dear Valued Companies & Partners,
Thank you for registering to participate in the Livestock Cambodia 2020 exhibition.
As you have all known, the world is still in the midst of the Covid-19 pandemic, the 2nd wave is spreading strongly and unexpectedly. The governments of many countries have requested to postpone all crowded gatherings, stop international flights and entry, implement social distancing, limit contact and travel.
In order to comply with the regulations and recommendations of the government and specialized agencies in the prevention of disease, as well as to ensure the safety of public health and our own, Organizer has decided to postpone exhibitions to next year 2021. New dates to be announced soon.
Please contact us if you have any question or concern:
For sale enquiry, please contact your sale representative or email: info@veas.com.vn
For visitor support, please email: phuoc.nt@veas.com.vn
———————————————————–
Livestock Cambodia 2020 – The 5th International Exhibition & Conference on Livestock, Dairy, Feed and Meat Processing in Cambodia will take place on 20 – 22 August 2020 at DIECC (Kohpich), Phnom Penh, Cambodia. The exhibition will bring to an integrated event for exploring latest innovations, new solutions and business opportunities with potential key players of Livestock, Dairy, Meat Processing industry. Many practical activities will be included to deliver more value to exhibitors and thousands of visitors during three days, prominent among them are seminar, business networking, etc.
Follow Fanpage Livestock Exhibition to update the latest news and get more information about the exhibition: https://www.facebook.com/LivestockExhibition/