The 9th International Exhibition & Conference on Pulp and Paper Industry in Vietnam
Paper Vietnam 2020
Saigon Exhibition and Convention Center (SECC)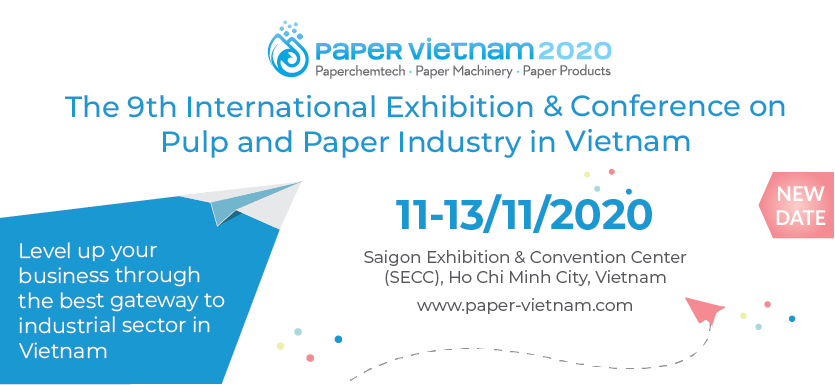 Paper Vietnam 2020
Playing as one of the important specialized events in promoting the development of Vietnam's paper industry, Paper Vietnam has undergone 8 successful organization times and created thousands of trade and signing meetings between exhibitors and Vietnamese and International buyers. With the aim to "Level up your business through the best gateway to industrial sector in Vietnam", Paper Vietnam 2020 – The 9th International Exhibition & Workshop specializing in Pulp and Paper industry in Vietnam will continue to be expanded in scale and quality, more diversified in program, product convergence and quality paper production equipment from leading domestic and international brands, promising to bring exciting experiences and business opportunities to visitors.
— NEW DATE ANNOUNCEMENT —
In order to comply with the regulations and recommendations of the government and specialized agencies in the prevention of the Covid-19 pandemic, as well as to ensure the safety of public health and our own, Paper Vietnam 2020 Organizer has decided to re-schedule to new date of November 11th – 13th, 2020 at Saigon Exhibition Convention Center (SECC), Ho Chi Minh City, Vietnam.
Please contact us  if you have any question or concern:
Please click here to see full announcement.